ARIA ANYWHERE
Soft Client for Remote Traders
With ARIA, you can trade from anywhere. Connect to the internet and you're in the market.
Just point, click and talk.
What are the benefits of ARIA?
Make the world your trading floor with the mobile technology that lets you work from anywhere.
Trade anywhere with a connection
Designed specifically for remote trading, ARIA gives you the tools you need, right there on your browser. It's easy for traders to voice trade from anywhere, and it's easy for organisations to roll out, with no complicated PC setup.
End-to-end encryption
Flexibility needn't come at the cost of security. ARIA is fully compliant and makes trading from home as secure as trading from the office. It comes with end-to-end encryption, and calls can also be recorded and stored in line with industry compliance regulations.
It's smart
Be ready to respond to unexpected changes. With ARIA, voice trading becomes mobile, so no matter the circumstances, you can continue trading from anywhere, on any device.
Stress-free remote access
Access a global directory, trading lines and broker lines, and place calls between two handsets. And, if you're working off fewer screens than usual, ARIA will adapt to give you the best possible experience.
Scale up, or down
Need to scale up? No problem – ARIA has been designed to accommodate up to 10,000 users.
Centralised management system
With ARIA's iCentralised Management System, you can manage thousands of users on one easy-to-use platform.
A long-term business alliance
We're committed to building long-lasting, rewarding business relationships that work for everyone.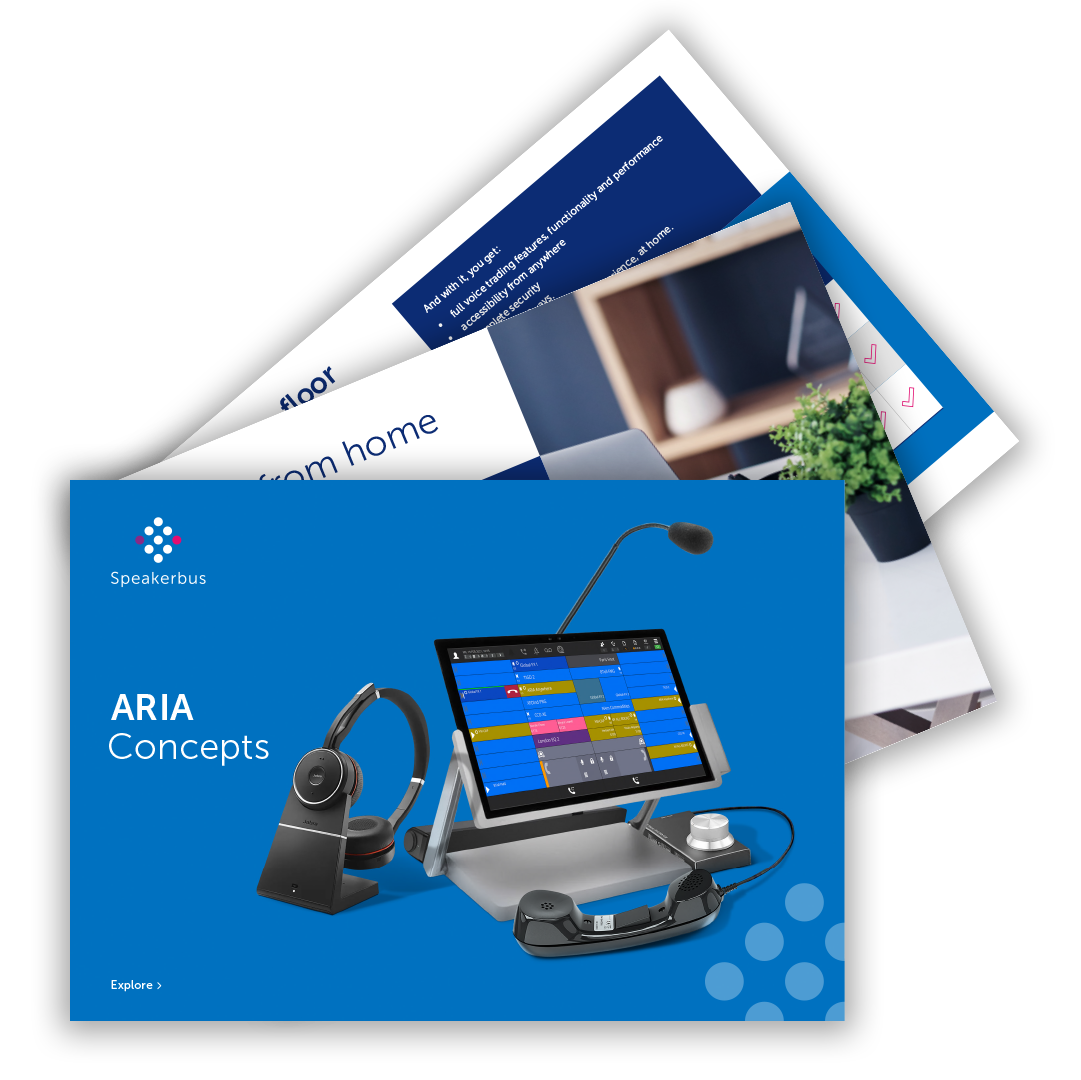 Download the ARIA Concepts brochure
Discover the flexibility of ARIA and how it can be used in your business.
Download our brochure to find out more.
ARIA ANYWHERE
How is ARIA deployed?
ARIA is straightforward to set up and install. If you've already got an Intercom, AYRE or iTurret, ARIA works as an overlay with additional components. Or, if you're a new customer, our experts will ensure you're set up and ready to go.
Watch the video to learn more about ARIA and how ARIA is installed:
Set up with an iTurret
If you already have a Speakerbus iTurret, find out what additional components you'll need for ARIA.
Set up with an Intercom
If you already have a Speakerbus Intercom, find out what additional components you'll need for ARIA.
Set up for new customers
Find out what you'll need to get setup and ready to go.