Connect with AYRE
The powerful trading hub for traders
When it comes to performance on the trading floor, success depends on connecting with the right person at the right time.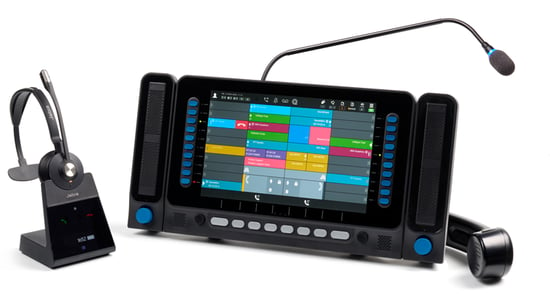 AYRE is a powerful trading turret, giving you what you need most, when you need it – instant, real-time communications that are always secure, always compliant.

Connect to clients and colleagues at the touch of a button. AYRE lets you prioritise and control your most important communications on a single screen.
What are the benefits of AYRE?
Make the world your trading floor with the technology that connects clients and colleagues at the touch of a button.
Simplicity
Traders don't have time to adapt to different tools depending on their location. That's why we designed AYRE. With its simple interface it's instantly recognisable, and it works the same across all devices.
Usability
With the right tools for the job, everything's easier. Designed to look and feel great, with a flexible touchscreen and buttons right where you want them, AYRE lets you communicate effortlessly. So you can focus on what matters – trading.
Flexibility
Every trader is different, and so is the way they like to communicate. AYRE gives you the freedom to customise your workflow and give your clients exactly what they need.
Cutting-edge
AYRE delivers valuable new capabilities thanks to its intuitive software, giving you the latest features and eliminating the need to buy new hardware.
Open
Thanks to our open API, AYRE adapts to your business, increasing customer satisfaction and driving efficiency – making you more competitive.
Centralised management system
With AYRE's centralised management system, you can manage thousands of users on one easy-to-use platform.
Extensible
AYRE's open architecture can be integrated into your overall trading workflow, so it works with other communication channels and apps — increasing productivity.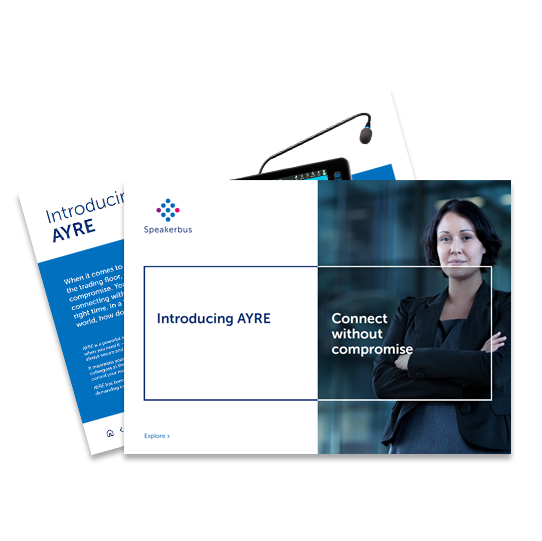 Download the AYRE brochure
Discover the flexibility of AYRE and how it can be used in your business.
Download our brochure to find out more.