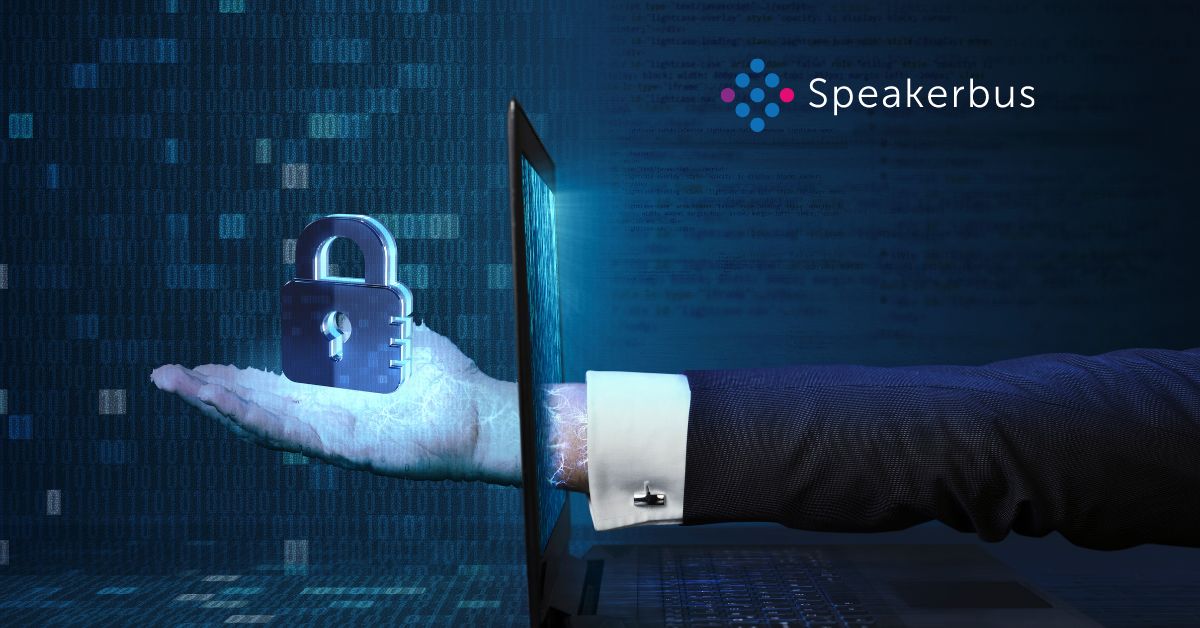 Cybersecurity is a significant concern for businesses of all sizes, and with the increasing use of cloud technology, it is more important than ever to have a secure and reliable cloud infrastructure that guarantees communications security. Speakerbus understands this concern and takes steps to support our customers, protect their data, and secure their critical communications.

At Speakerbus, this includes identifying potential vulnerabilities, implementing security controls to prevent unauthorised access, continuous product development to bake in security and having plans in place to respond to breaches. Here's an in-depth look at the steps we take to ensure communications security.
The Speakerbus approach to security
Speakerbus supports cybersecurity prevention by investing in security technologies and practices to ensure the security of both cloud communication platforms, hybrid and on-premise communication solutions.
The ISO 27001 family of international standards for information security management provides a framework of policies and procedures organisations can use to manage and protect their sensitive information. The certification process is designed to ensure that organisations have implemented the necessary controls and procedures to manage and protect their information effectively.
The ISO Standard provides Speakerbus with a comprehensive and globally-recognised framework for information security management that helps organisations of all sizes protect their sensitive information and maintain their data's confidentiality, integrity, and availability.
Speakerbus first gained ISO 27001 in 2011 and most recently recertified in 2022, demonstrating that we are continuously maintaining and updating our security management in line with changes to the standard, and further ensuring we are well-prepared for the increase and the complexity of global cyber threats.
How Speakerbus' technology provides critical communications security
Speakerbus systems and technologies regularly undergo 3rd party security audits (Bulletproof) and vulnerability (Qualys) assessments to identify potential threats and product enhancements.
These recommendations are integrated into our product developments, and we are simplifying our products to minimise any attack surface area. All our servers can also be deployed as software applications to be installed on our customers' own servers, which allows the customer to manage their communications security to their own standards and policies.
We have implemented encryption technologies to protect data in transit as well as at rest. This prevents unauthorised access to sensitive data and ensures security for our customer's communication.
Our systems provide for the 'least privilege' trust model, meaning users can only access, configure or control things that they need to, and no more. We're also removing passwords from our systems by using respected technologies such as Microsoft's Group Managed Service Accounts.
Below are some other steps we take to ensure communications security for clients leveraging Speakerbus' critical communications solutions.
24/7 monitoring
Our engineering teams monitor deployed systems 24/7; for instance, our CADENCE cloud offering supports cyber and communications security using leading platforms such as SolarWinds to monitor the performance of our service. Our global helpdesk teams use multiple tools to monitor assets, identify risky misconfigurations, and perform web scans, helping us counter potential threats and maintain our client's services. Additionally, our teams undertake security training and education programmes to stay informed about the latest threats and best practices for protecting data.
Tailored communications security
We also work closely with our clients to understand their specific security requirements and needs. For example, we offer customised security solutions that are tailored to the unique needs of our clients. This helps to ensure that clients have the right level of protection for their data and that their critical communication infrastructure is secure. This might include specific server hardening policies and feature developments.
When secure communications come under threat
We do our utmost to ensure the worst never happens, but in line with security best practices, we plan for multiple possible eventualities. Speakerbus regularly carries out Business Continuity exercises to ensure our fault-tolerant network and service offering perform as expected, so if we ever are impacted by a cyber attack that threatens the security of our communications platforms, we have procedures in place to respond quickly and safeguard our services.
In conclusion
In conclusion, by investing in best-of-breed security techniques, continuous system monitoring and constant product development, as well as working closely with our clients and maintaining best practices, we help ensure that customers' critical communications data remains secure and protected against potential cyber threats.

Find out more about how Speakerbus' solutions enable communications security or get in touch with our team for any specific communications security questions you may have.