This article highlights the new features and updates that have been released to enhance the performance and capabilities of Speakerbus' digital cloud collaboration platform QORUS.
These updates improve our solutions to better meet the demands of our financial clients and partners.
UX enhancements in our latest QORUS release
Group Talk (ARIA)
Added support for Group Talk and associated programming to the ARIA range, providing a method to talk over multiple speaker channels through a single button press. This comes with an easy-to-use programming mode, giving users the option to add and remove speaker channels to up to 4 different groups and customize their corresponding button labels.
Live Updates (ARIA/AYRE)
User profile changes made in iManager are now synchronized automatically to ARIA / AYRE endpoints in real-time without requiring the user to log out and without compromising turret activity. Once the changes are committed, a pop-up message is shown to the user advising that the changes are being made.
Device Info. Enhancements (ARIA/AYRE)
Based on customer and partner feedback, the device info dialog has been augmented to include the iCB server address and CloudBase collection.
GUI Update
A significant number of UI design changes are introduced in the Enterprise 6 release, improving the overall user experience and extending the ARIA/AYRE feature set:
Ring and Call Timers
Timers are now displayed in all ARIA and AYRE endpoints to signify incoming ring duration (including a shaded progress bar), call duration and on-hold timers (requires iCB v2.000.2.0 or iD808 v4.000.2.0). Note that call timers aren't displayed in the small rectangle tiles on the ARIA Touch and AYRE layout due to the limited space available.
Tile Borders
Coloured tile borders have been introduced to ARIA Touch and AYRE to make it easier to identify line tiles in various call states.
Ringing lines: White border
Active lines: Green
Busy Elsewhere: Orange
On-Hold: Blue
Call History
With the introduction of call timers, a call duration column has been added to the call log. To accommodate the additional data, the call log has been re-fashioned into a single filterable list (requires iCMS v3.960.1.0 and iCB v2.000.2.0 or iD808 v4.000.2.0 for the persistence of call duration).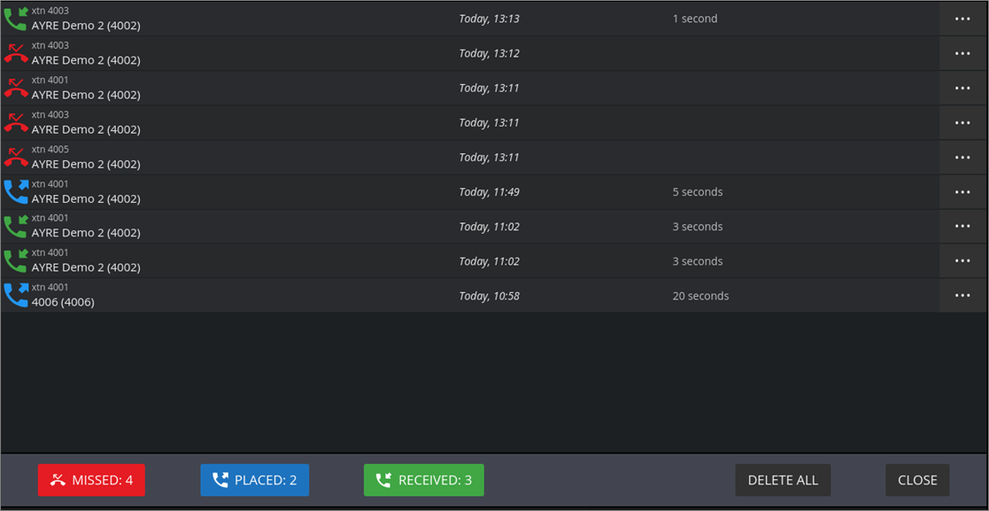 Volume UI
Individual in-line volume controls added to ARIA Touch and AYRE speaker tiles.

ARIA Touch and AYRE volume page view no longer hides line tiles when toggled open. Latched/unlatched nature of speaker tiles and physical buttons in AYRE and ARIA Touch is now controlled by iCMS configuration.
Dialpad always visible option
The original dial pad view has been deprecated, and a new pop-up dial pad overlay for ARIA Touch and AYRE has been introduced. It can be set to be always visible or auto-hide when dialling is complete. There are user-configurable dial pad options when a line tile is pressed in ARIA Touch and AYRE.
Keyboard
Enhanced AYRE keyboard styling for improved accuracy with the addition of key call-outs to highlight the key that's been pressed.
Password reveal button
Added password reveal button to the password field of the ARIA/AYRE login page.

Drag & Drop Wipe Speaker Channel
Drag and drop (to rubbish bin) speaker wipe and replaces speaker wipe menu item for ARIA Touch and AYRE.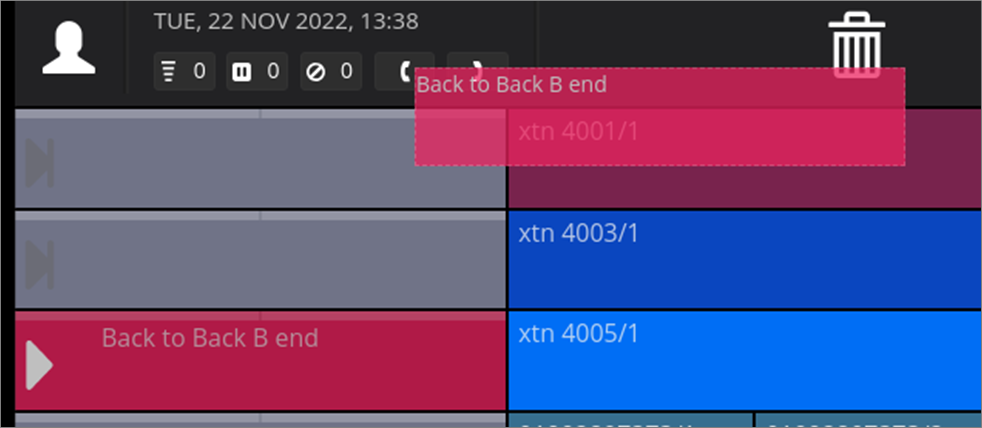 Additional gesture controls
Added swipe left and right touch gestures for page navigation to ARIA Touch and AYRE.
QORUS platform enhancements
This Enterprise release brings the following enhancements to the QORUS platform.
AYRE Secure Connection (CADENCE)
Encrypted AYRE connections for secure remote device deployments hosted on Speakerbus CADENCE.
Bandwidth Minimization (AYRE/ARIA)
Added support for the G.711 and G.722 audio codecs in AYRE (including VAD) for reduced bandwidth consumption in non-LAN environments.
iCB as an Application
With the introduction of iCB as an Application, Speakerbus now offer the installation of iCB software on customer or partner-provided servers and operating systems (CentOS 7 & RedHat 7), allowing them to manage their environments, apply OS patches and perform OS upgrades as part of their own internal processes.
iGS as an Application
With the introduction of iGS as an Application, Speakerbus now offer the installation of iGS software on customer or partner-provided servers and operating systems (CentOS 7 & RedHat 7), allowing them to manage their environments, apply OS patches and perform OS upgrades as part of their own internal processes.
Secure File Transfers (iD808/DUCX/iG330)
Support for secure file transfer (SFTP) to provide encrypted file transfer when performing device firmware upgrades and diagnostic log file retrieval. TFTP will be deprecated in future releases.
iCMS Device Additional Info
Added two new free-form text fields (Additional Info #1 and Additional Info #2) to the iManager configuration pages for administrators to annotate Deskstation and Gateway profiles.
iCMS DRIFT Scripts
Multiple new reports to retrieve system configuration parameters for customers to compare with their own internal standards.
Disable iGS Webpage
Previously the iGS admin page was accessible to anyone attempting to connect to the iGS over port 443, including public IP address. It is now possible to disable the iGS web admin page from the command line interface.
iCS Security Update
With each new iCS release OS packages, security cyphers and encryption algorithms are updated in line with prevailing Qualys security recommendations.
iG330 Security Updates
Multiple security enhancements, including the addition of SFTP transfer, a new command to safely erase sensitive data from the iG330 and return it to factory defaults, Web page improvements, and OS Package updates.
iG330 Removal of MCC Requirement
iG330's no longer test for the Multicast Control Channel (MCC) to be present, meaning iG330's can be deployed at a remote Data Center for terminating TDM connections that are not local to the Speakerbus endpoints.
Device Wipe for iG330
New command to safely erase sensitive data from the device.
iCS GCP Multi-Core Support
Provides multicore processor support within the Google Cloud Platform so multiple virtual CPU cores can be assigned to audio processing.
Compatibility
The following have been certified as compatible with QORUS in this Enterprise release period:
Android chrome support (ARIA Click/Touch) – ARIA Click / Touch have been tested and certified to work in a Chrome browser running on an
Android device.
Avaya TCP SIP Support - Added an option for connecting to Avaya Aura using SIP TCP in addition to the previous UDP connectivity.
Symphony - Added "out of the box" CTI Integration with the Symphony messaging app, which provides outgoing call management of a Speakerbus endpoint from within the Symphony GUI.
Cisco UCM - Certified compliance with Cisco Unified Call Manager (CUCM) version 14.
ZScaler ZIA - Introduced ARIA support for secure deployment with ZScaler Internet Access (ZIA) software suite.
---
Please contact your Speakerbus Account Manager for more details.