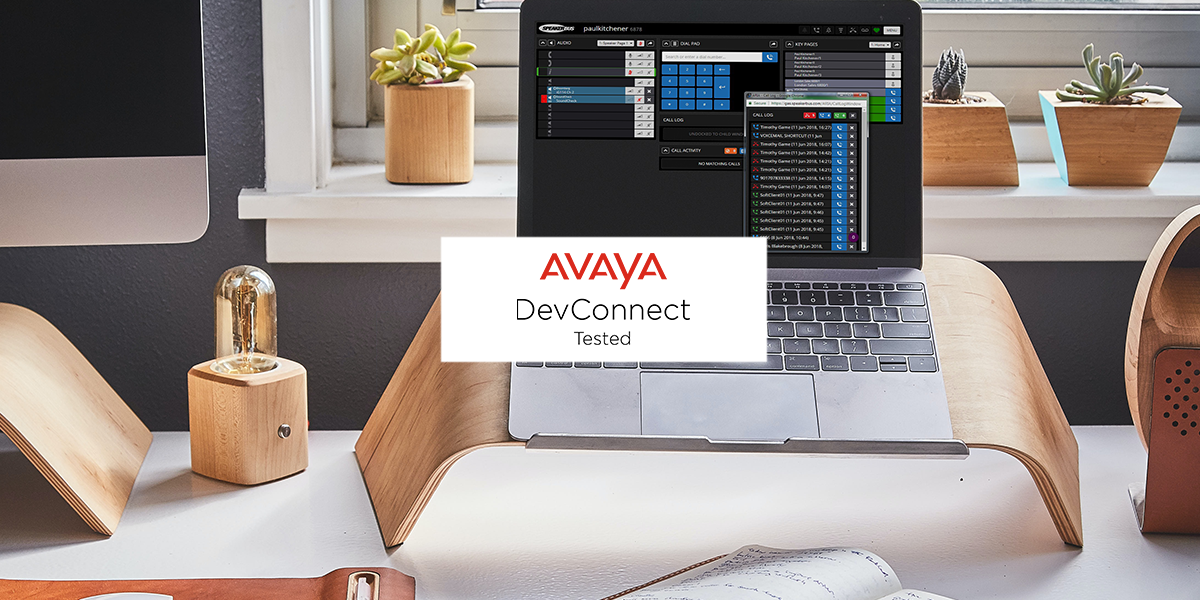 Speakerbus ARIA & iTurret are now rated "Avaya Compliant" with Avaya Aura® platform
London, United Kingdom – 5 September 2023 — Speakerbus Group, a leading provider of critical voice solutions that power the financial and command & control markets, today announced that its QORUS ARIA and iTurret Dealerboard solutions are compliant with key Avaya Aura® solutions, helping customers in the financial markets collaborate effectively and fully utilize their communications infrastructure. Avaya is a global leader in customer experience solutions.
The Speakerbus ARIA and iTurret Dealerboard solutions provide financial sector customers with a full suite of voice, telephony, intercom, hoot, and private wire functionality, allowing team members to interact with their preferred tools – whichever way they prefer. iTurret offers a traditional and secure physical desk-based trading device. At the same time, the ARIA soft client supports financial traders to voice trade from anywhere with a connection, protecting their interactions with encryption and recording and storing calls to remain in line with industry compliance regulations. During the global pandemic, customers rapidly adopted the ARIA solution to help them deliver secure and compliant remote working for their trading teams.
Both the ARIA Soft Client and iTurret Dealerboard solutions are now compliance-tested by Avaya for compatibility with Avaya Aura Communication Manager 10.1 and Avaya Aura Session Manager 10.1 via SIP.
"DevConnect compliance testing helps Speakerbus customers get the most from their investment by adding the specialized voice and telephony capabilities of our ARIA and iTurret applications to their Avaya communications infrastructure," said Timothy Game, Product Director, Speakerbus. "Our open SIP-based architecture can interoperate with an ecosystem of best-of-breed vendor technologies, enabling customers with the most demanding mission-critical business environments to benefit from its ease of deployment."
"Technology partners like Speakerbus are empowering their clients to deliver voice trading outside of the traditional fixed floor," said Eric Rossman, Vice President, Strategic Alliances and Technology Partners, Avaya. "Together we are helping enable our shared customers to maximize their investment through innovative and complementary solutions."
Speakerbus is a Technology Partner in the Avaya DevConnect program, an integral network of Avaya experts, partners, developers, and customers. This unique global collaborative is exceptionally positioned to deliver the next-gen customer and employee experiences businesses need through Avaya's Cloud Communications portfolio, including the Avaya Experience Platform. Partners in the DevConnect program develop, market, and sell innovative third-party products that interoperate with Avaya technology and extend the value of a company's investment in its network.
As a Technology Partner, Speakerbus can submit products to Avaya for compliance testing, where a team of DevConnect engineers develops a comprehensive test plan for each application to verify its Avaya compatibility. This enables customers to confidently add best-in-class capabilities to their network without having to replace their existing infrastructure—helping speed deployment of new applications and reduce both network complexity and implementation costs.
Learn more about how Speakerbus is part of Avaya's DevConnect program and Avaya's other partner programs.
About Avaya
Businesses are built by the experiences they provide, and every day, millions of those experiences are delivered by Avaya LLC and its affiliates. Avaya is shaping the future of customer experiences, with innovation and partnerships that deliver game-changing business benefits. Our communications solutions power immersive, personalized, and memorable customer experiences to help organizations achieve their strategic ambitions and desired outcomes. Together, we are committed to helping grow your business by delivering Experiences That Matter. Learn more at http://www.avaya.com.
About Speakerbus
The Speakerbus Group is a leading provider of critical voice solutions that power the financial and command & control markets. Our collaboration, connectivity and compliance solutions portfolio helping organizations gather information, gain insight, make decisions, and build relationships. For over 35 years, Speakerbus has been recognized for having a customer-first approach, striving to provide consistently excellent and personalized service. For more information, visit www.speakerbus.com and follow us on LinkedIn and Twitter (@speakerbus).