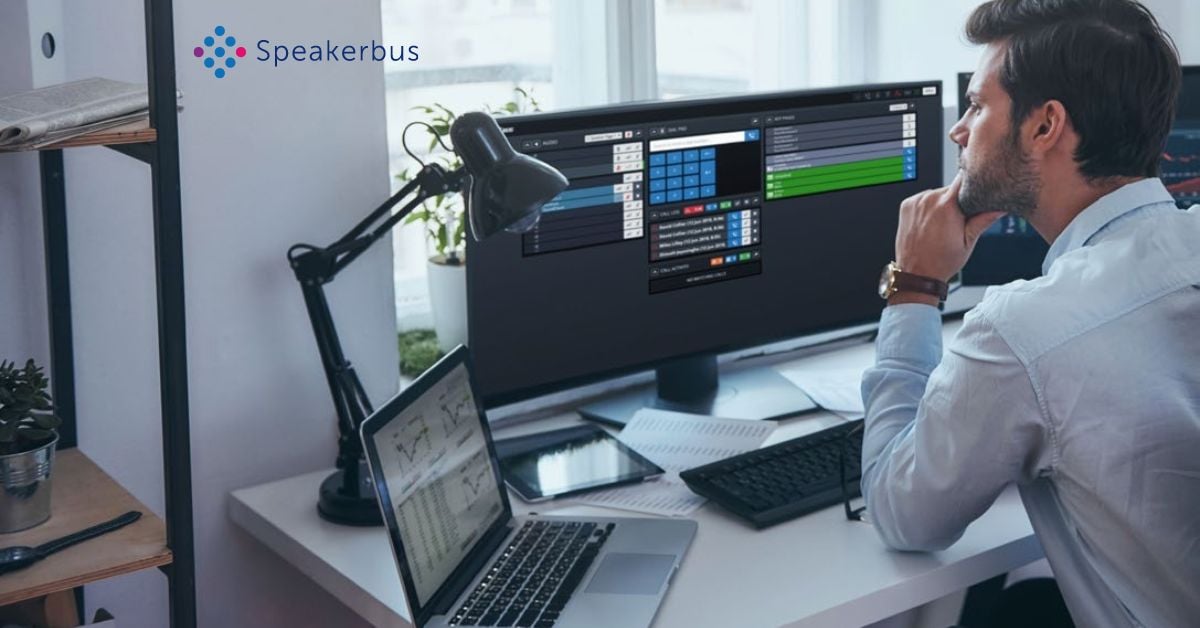 In today's fast-paced business environment, effective communication plays a vital role in the success and growth of organisations. As technology advances and the global financial marketplace becomes increasingly interconnected, the ability to communicate clearly and efficiently has become more crucial than ever before. Whether exchanging ideas, negotiating contracts, or resolving conflicts, businesses rely on effective voice communication.

Speakerbus recognise the significance of seamless onboarding and dedicated support throughout the cloud communication platform onboarding process and will prioritise this to unlock efficient business communication for firms.

This article discusses how Speakerbus' onboarding and support processes help ensure our clients get the most out of their cloud communication system.
Effortless cloud communication platform onboarding
By providing comprehensive support and guidance throughout the onboarding process, Speakerbus minimise disruptions, facilitate quick adoption, and empower employees and administrators to confidently navigate and leverage the benefits of their new communication system without any unnecessary obstacles or complexities.
Quick setup and smooth integration
At Speakerbus, as well as ensuring a smooth transition to the cloud communication platform, we also focus on integrating the platform with existing business tools and processes.

By collaborating with clients and their in-house platforms/tools, we eliminate the need for manual data entry and ensure a smooth data transfer experience. Additionally, we offer assistance in importing data from external sources, such as third-party Dealerboard exports, which can be quickly imported into our system using Excel, making the process faster and more efficient than manual data entry.
User-friendly cloud communication platform interface
A smooth transition when adapting to a new communication platform is vital, which is why our intuitive and user-friendly interface is designed with simplicity in mind. By prioritising ease of use, we ensure an effortless learning curve for clients. Clients can quickly adapt and leverage the platform's features. This intuitive design empowers the seamless navigation of the new communication platform, promoting efficiency, productivity, and effective collaboration within the organisation.
Proper evaluation of goals
We place great importance on thoroughly understanding the needs and expectations of users at Speakerbus. To achieve this, our pre-sales team invests time and effort in working closely with clients during the technical design stage, allowing us to comprehensively understand the client's requirements.

A tailored solution that meets the business's expectations is delivered by actively engaging with clients and reflecting their specific needs in the product design. This commitment to understanding and addressing the client's needs sets Speakerbus apart, fostering strong, long-term client relationships and delivering products that align with our client's goals and objectives.
Dedicated cloud communication platform support
In addition to the initial onboarding process, dedicated support plays a crucial role in upholding the efficiency and effectiveness of a cloud communication platform. Speakerbus understands this, and will deliver continuous support to ensure ongoing success and optimal performance.
Technical assistance
Having a dedicated support team is crucial because it helps users quickly overcome challenges and maintain smooth operations. At Speakerbus, we have extensive support for clients during and after implementation, ensuring timely and effective resolution of technical issues to minimise the risk of downtime.

Our experts provide training before go-live to ensure clients have the knowledge and skills to use our trading communications infrastructure effectively. We will then hold regular meetings to review progress, identify and resolve issues, and make any necessary adjustments to the project plan. Furthermore, we adopt the agile methodology in project management, emphasising flexibility, iterative development, and frequent team communication to facilitate a smooth and efficient implementation process.
Training and Education
A comprehensive cloud communication platform like Speakerbus often comes with many features and capabilities. Our dedicated support offers ongoing training sessions and educational resources to empower employees to leverage the platform's full potential.

Comprehensive training sessions before go-live will also be provided to equip clients with the necessary knowledge and expertise to utilise our trading communications infrastructure effectively. During these on-site and small-group training sessions, clients will receive personalised training on their trader profiles for familiarity and final approval. When required, dedicated floorwalkers will also be present on go-live to provide additional training and support, ensuring clients are maximising the benefits of our trading infrastructure.
Continuous improvement and updates
Technology evolves rapidly, and cloud communication platforms are no exception. As a result, a dedicated support team that keeps track of industry trends, user feedback, and emerging needs is important to ensure continuous improvement of the platform.

At Speakerbus, our dedicated Cadence support team will diligently oversee the trader voice system to ensure it operates seamlessly and quickly address any issues that may arise.
Our team is fully prepared to implement essential updates or profile changes as needed, guaranteeing the system has optimal functionality and meets the evolving requirements of traders.
Benefits of seamless onboarding and dedicated support
The onboarding process offered by Speakerbus significantly improves trader performance by reducing the requirement for manual input. This results in a notable time-saving benefit, reduces operational risks and facilitates faster rollout, reducing downtime required.

This provides a frictionless and effortless experience for clients when they initially engage with the solution, empowering users to quickly comprehend and navigate the platform's features and maximise its capabilities.

With Speakerbus' unwavering commitment to expert support, users receive continuous assistance to tackle obstacles, optimise the capabilities of the cloud communication platform, and remain well-informed about the latest features. The combined benefits of our seamless onboarding and dedicated support enhance the overall communication experience, empowering traders to flourish in the digital age.

If you'd like to learn more about the transformative power of our seamless cloud communication platform's onboarding and dedicated support, get in touch today.