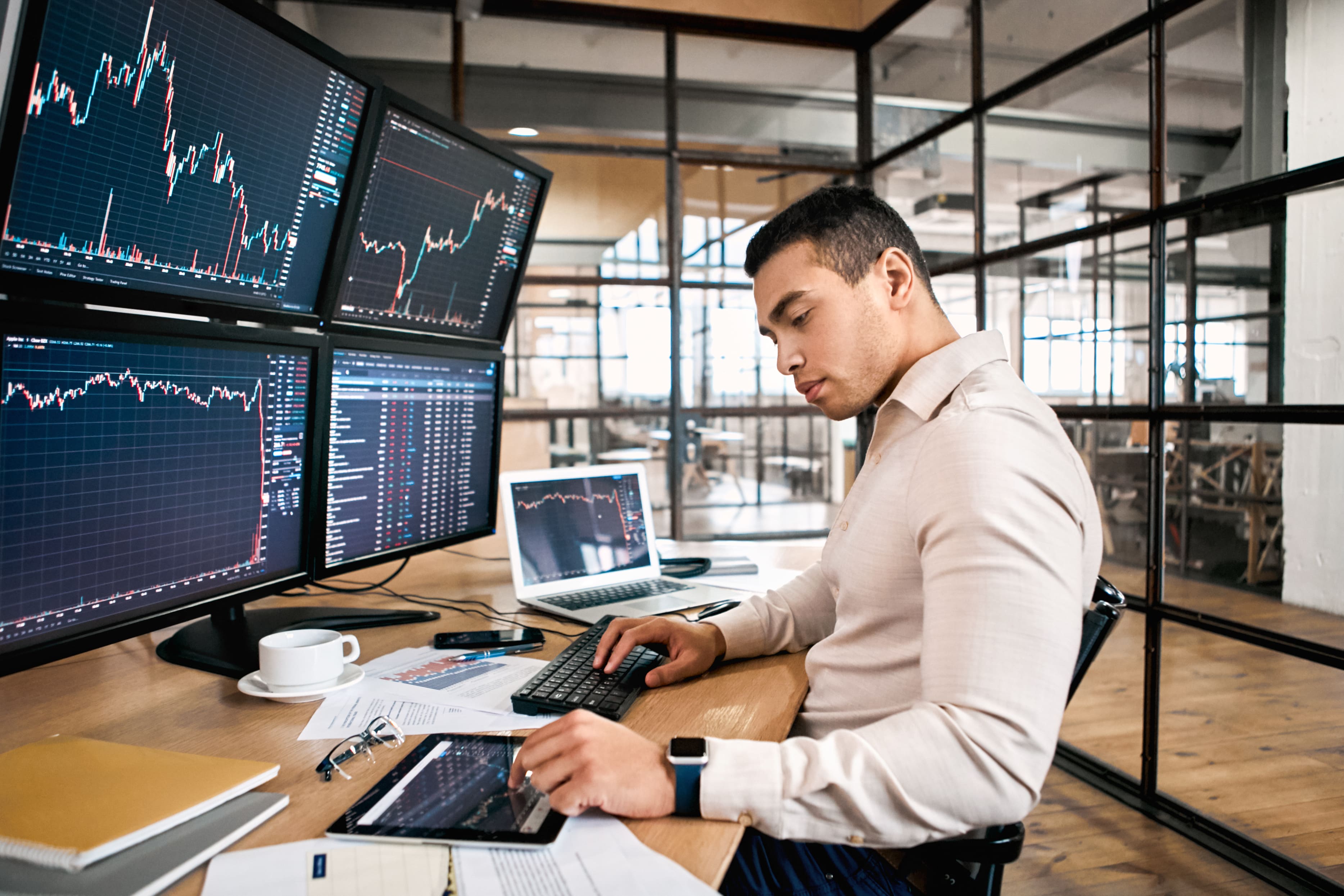 Are you planning on implementing unified communications within your organisation? Many financial firms are embracing digital transformation right now and ensuring seamless trading communications is a top priority, especially with firms operating hybrid working models. In this article, we explore the pros and cons and key considerations for traders when choosing between on-premise and cloud unified communications deployment.
Meeting the needs of a hybrid workforce
The main drivers of unified communications (UC) adoption in Financial Services are the rise of digital transformation and the demand for solutions that can meet the needs of a hybrid workforce. Firms need to empower their staff through technology and give them access to communications tools that offer the same capabilities, in and out of the office.
Today's trading communications need to be fast, reliable, secure, agile and compliant. There is no room for downtime, misalignment or friction in an extremely competitive market, otherwise, firms risk losing ground, missing out on growth opportunities, damaging user experience and falling foul of regulatory compliance obligations.
When building a business case for implementing UC solutions there are various factors to consider, and a big one is how to deploy and host the solutions.
What to consider when choosing between on-premise and cloud-based unified communications
When deciding which deployment route to go down, it's important to understand the differences and key factors to assess what's the most suitable option for your business. Let's take a look.
What is the difference between on-premise and cloud unified communications?
With on-premise unified communications deployment, all the hardware and infrastructure are stored in-house. On-premise UC solutions are typically used by larger organisations due to a desire or need for more bespoke builds and greater control over the network. Firms can work with an experienced UC solutions provider to design and build a tailored communications ecosystem.
Whereas, with a cloud unified communications, your solutions provider will host the network and services in its data centres, meaning much of the maintenance and responsibilities are taken care of by this third-party cloud provider, easing the pressure on your IT team and freeing up resources. A cloud-hosted solution is often chosen by organisations wanting to streamline processes and systems and operate with more agility.
You may want to take a combined approach, which is becoming increasingly popular, opting for a hybrid UC solution, where you utilise UCaaS (unified communications as a service) for certain elements but maintain some form of on-premise communications presence. The hybrid option can act as a phased approach, moving parts of your UC ecosystem to the cloud, step by step.
What are the key considerations to take into account?
Planning a digital transformation project for communications requires a comprehensive assessment of your business needs. Define your objectives and goals and scope out your key requirements from UC solutions. Then you'll need to evaluate the suitability of different vendors, partners and hardware manufacturers and weigh up the benefits of hosting and deploying unified communications on-premise or in the cloud.
Key considerations when deciding between on-premise or cloud unified communications include:
Flexibility
Control
Reliability
Security
Cost
Scalability
It's also important to consider the availability and integration of specialist call features that are critical for today's traders, such as intercom, hoots, private wires, etc. For example, Speakerbus' cloud-based UC solutions offer voice, telephony, intercom, holler-n-hoot and private wire functionality, providing team members with the flexibility to interact via various tools with peace of mind around compliance.
On-premise vs cloud unified communications: Weighing up the benefits
Let's explore the pros, cons and key benefits of on-premise vs cloud unified communications and how each hosting option suits different needs.
Pros and cons of on-premise unified communications deployment
A big on-premise vs cloud unified communications debate is over costs, weighing up the upfront investment of internal builds and deployment, TCO (total cost of ownership) and how ongoing maintenance and hidden costs may or may not outweigh the outlay on UCaaS and tiered subscription payments.
Typically, on-premise solutions involve physical services and PBX (private branch exchange), which require office space, racks, power supplies and things like cooling systems. So, the upfront costs can be daunting for certain organisations. However, the cloud-hosted route means ongoing UC service costs.
When calculating TCO, you need to look at the big picture. The calculation and forecasting will involve considerations over current and future requirements, numbers of users, growth goals, etc. With on-premise UC hosting, although you won't be paying for recurrent subscription costs, maintenance, upgrades, etc, can start adding up.
Businesses keen on the on-premise UC route often favour the control that you retain. Your data and comms stay under your firm's (and IT team's) control. Sensitive data remains behind the firewall and you get a clear view of policies and processes, ensure compliance obligations are being met and apply security protocols. However, it's hard to operate with the necessary agility to meet today's mobility demands with on-premise UC solutions. Scalability can be an issue without the cloud. Managing capacity increase, accommodating growth and implementing upgrades become a challenge, in terms of the speed and cost change and balancing resources.
Key benefits of on-premise UC hosting
Greater control
Having complete control over your communications can be reassuring and if you have a highly-experienced and trustworthy IT team, you may feel you're best placed to manage your UC network in-house. Your firm owns the system, has full visibility over it and can control access, configurations, security and software updates and hardware upgrades.
Customisation
On-premise UC solutions are attractive for businesses with intricate needs, as having your IT team manage the deployment means being able to fully map requirements to your UC ecosystem, customising your solutions accordingly.
Security
By hosting UC in-house, you can enjoy peace of mind that your most valuable data resides in locations you have full control over. Arguably, you're less at risk of data access/permission issues and misuse or breaches, as data can't potentially be exposed to another tenant on a hosted system like with the cloud.
A clearer picture of costs
Your UC hosting costs may seem clearer with an on-premise approach, but ongoing maintenance and upgrades are still future costs you'll have to plan for, which is where things become harder to calculate.
Pros and cons of cloud unified communications deployment
Digital transformation is all about streamlining systems and processes and maximising productivity and agility, so it's no wonder trading firms look to the cloud for delivering an efficient unified communications network. You need to provide employees with the ability to access and enjoy the full range of communications capabilities, whatever the location or device they're using.
The pandemic and subsequent remote working trends and demands have accelerated the reliance on cloud solutions and boosted the popularity of communication platforms like Zoom, Slack, Microsoft Teams, Cisco Webex, etc. These software solutions promote fast and efficient communications and collaboration and increase agility and mobility. The key is scalability, which is a big attraction for firms looking to implement unified communications. Being able to scale IT infrastructure and provision resources as and when needed is a huge benefit for financial firms.
This is just one of the many benefits of cloud unified communications, as scalability and mobility relate to costs, user experience, flexibility and continuity. Plus, when it comes to future-proofing your firm's communications, embracing the cloud is inevitable, as scalable cloud-based software enables your network and infrastructure to grow and adapt to the evolving needs of your business and the industry.
8 key benefits of cloud UC hosting
1. Scalability & flexibility
With on-premise solutions, ramping up and adding new users can be slow and complicated, whereas it's simple with the cloud. And cloud UC solutions offer flexibility to meet your needs, including seamless remote access, smooth data syncing and less friction in the customer experience.
2. Reliability/continuity/disaster recovery
The pandemic has shown the impact that unforeseen events can have on business productivity and operations. Cloud communications enable firms to remain efficient in various scenarios and with staff working remotely. Business continuity and resilience are crucial and cloud solutions are primed to combat unpredictability and ensure uptime. You can also expect high call quality and performance. When it comes to disaster recovery, cloud UC enables businesses to continue operating in the event of fires, floods, earthquakes, etc, thanks to offsite data centres, remote capability, data backups, etc, ensuring business continuity.
3. Managed support and maintenance
Moving communications to the cloud means much of the heavy lifting is removed from your IT team, with maintenance, updates and technical issues taken care of by third-party providers, whilst you get access to 24/7 support and proactive network and system monitoring.
4. Centralised data
The cloud provides businesses with a single view for users and data, for ease of management and greater visibility. By centralising data, you break down silos, align teams and processes and reduce risks and missed opportunities.
5. Usability
Your communications tools need to be seamless, intuitive and easy to use, whether working internally, remotely or abroad. Data stored in the cloud means access to information at your fingertips and frictionless communication and collaboration.
6. Security
Balancing the demand for this seamless communications experience and maintaining security and compliance is vital. Unified cloud communications enable your business to leverage enterprise-grade data integrity and security safeguards to combat threats and reduce the risk of exposure. Whilst some firms have concerns about sensitive data being stored in the cloud, outside of their four walls, most UCaaS providers leverage sophisticated cybersecurity measures, from data encryption and firewalls to denial-of-service (DDoS) protection and advanced surveillance tools.
7. Integrations with other systems
The nature of cloud solutions means integrating with other platforms, such as CRMs, is simple and firms can gain holistic data control and visibility and richer insights for better decision-making and business intelligence.
8. Cost-effectiveness
With the flexibility of the subscription model, cloud solutions are cost-effective. As and when you need to add users and introduce new software and hardware, you can make decisions directly related to demand. This means less wastage and a more manageable transformation journey. Also, you can access enterprise-level tech without a huge outlay upfront, with cost savings on maintenance, repairs and system upgrades. Ultimately, you only pay for what you need.
What about a hybrid approach to unified communications?
Businesses also have the option of combining on-premise and cloud solutions, taking a hybrid approach to unified communications. This might suit your business if you're intent on keeping some of your data onsite but want to move certain elements to the cloud. The decision will be determined by your firm's specific operational needs and growth plans. Plus, your budget and timelines may dictate that your journey to the cloud needs to be phased.
Operating a hybrid model is not simple though, as it involves using multiple vendors and managing on-premise infrastructure and third-party relationships. There are risks of misalignment and oversight if not managed effectively, and there can be confusion over responsibilities when you run into any issues.
However, as a vast number of FSI businesses are utilising the cloud in some form or another (Google Cloud's recent survey revealed 83% of Financial Services companies are deploying cloud technology as part of their primary computing infrastructures), moving towards cloud communications solutions is inevitable. And a hybrid approach can mean dipping your toes in without committing to go all-in for the cloud UC.
Advantages of taking a hybrid approach
Enabling firms with unique data protection needs to benefit from the power of the cloud.

Easing the pressure of digital transformation projects.

Allowing for a phased journey to cloud unified communications, moving parts of your communications infrastructure to the cloud as contracts expire or legacy systems become outdated.

Cloud-hosted UC solutions can be integrated with on-premise systems to support various comms equipment.

Remote staff can utilise cloud solutions, even if certain physical hardware is located on-premise.
Summary
When selecting your unified communications deployment method, it's crucial to consider all factors, the pros and cons of hosting on-premise, in the cloud, or a combination of both, and what makes the most sense for your firm, employees and future business plans. Developing an effective unified communications ecosystem requires significant investment, so future-proofing your business is vital - you don't want to go back to the drawing board in a few years. Your digital transformation journey should be growth-driven and have scope for continuous improvement to meet the changing demands in the future of work.
UC deployment is complex and having the support and guidance from an experienced solutions provider is invaluable. Speakerbus is a leading provider of innovative communications solutions for traders, enabling firms to empower their teams with seamless collaboration and communications that are easily managed, monitored and maintained, ensuring secure, reliable and compliant processes.
We can advise you on the most suitable solutions for your specific business needs and support the implementation. If you choose cloud unified communications, we offer UCaaS, which has certified interoperability with the likes of Cisco, Avaya and Mitel, for the cost-effective development of an optimal trading communication ecosystem. You can access and roll out the most cutting-edge communications tools for traders.
Learn more about Speakerbus' solutions or get in touch to discuss your business needs and challenges.