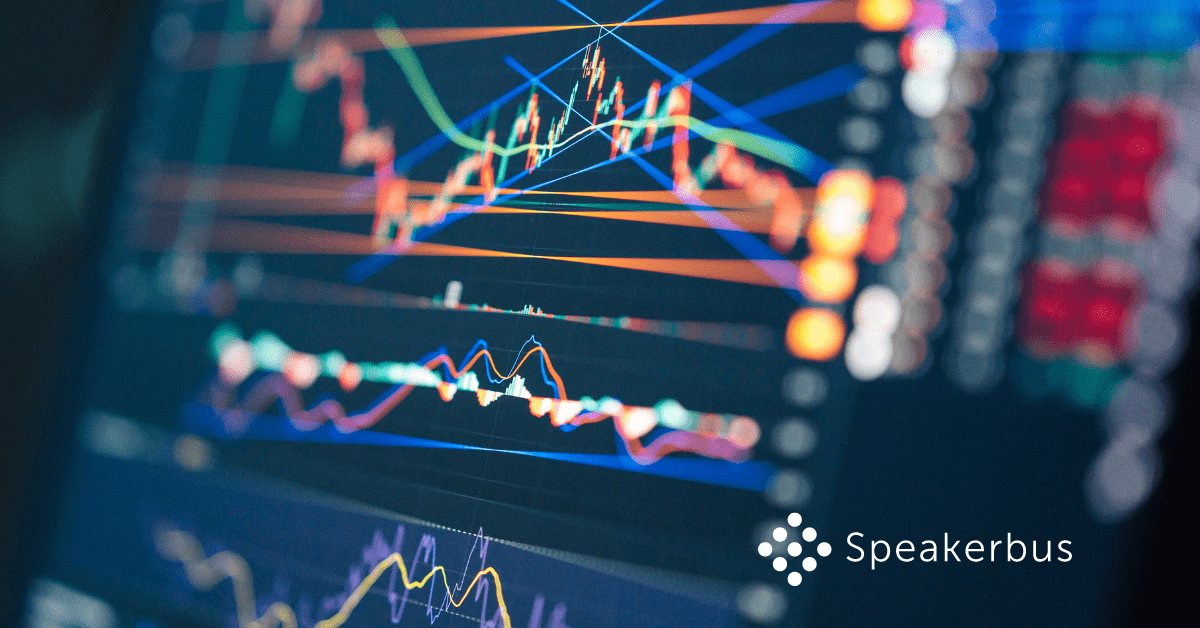 The shift to remote work has revealed that the hybrid future of Capital Markets requires an enhanced strategic approach to ensure that trading firms can maintain their operational efficiency. At the heart of this is uninterrupted critical communications, which are vital for overall productivity as well as compliant, complex trades.

This has accelerated the demand for innovative digital solutions, specifically for hybrid working communications, which has led to many businesses adopting cloud-enabled trader voice communication solutions. These have allowed firms to maintain the speed at which they operate and make trades while still keeping teams connected and informed - no matter where team members are located.

Here we explore the impact of the hybrid working model on trading firms, the challenges hybrid teams face, and how effective, cloud-based hybrid working communications solutions can help firms thrive in this increasingly hybrid world.
How is the hybrid working model changing trading infrastructure needs?
With more and more employees working outside the office, either at home or on the go, there has been an increase in demand for remote access to trading systems, data and communications tools. However, prior to the explosive growth of hybrid practices, traditional trading infrastructures were not equipped with these remote tools or the capabilities to support hybrid trading.

As the popularity of remote working shows no signs of slowing down, traders are increasingly relying on digital communication channels, such as instant messaging and video conferencing, to collaborate and communicate with colleagues and clients. This has required trading firms to invest in hybrid working communication tools that are secure, robust, reliable, and easily accessible from any location.

With this, there's also been a focus-shift to cloud-based infrastructure solutions that provide trading professionals with access to systems and data from anywhere with an internet connection. Cloud-based infrastructure provides trading firms with more flexibility and scalability while also reducing the need for on-premise hardware and software, ultimately enabling streamlined hybrid working practices.

Overall, the hybrid working model is driving the need for trading infrastructure that is more flexible, scalable, secure, and accessible. Firms that are able to adapt to these changing needs will be well-positioned to help their traders succeed in the new hybrid work era.
What are the critical hybrid working communications challenges for traders?
While solutions like the cloud are helping trading firms to adapt their infrastructure, hybrid work still presents a number of communications challenges that traders need to combat, leveraging both technology and a change in approach.
Managing a remote workforce effectively
Without in-person contact, managing a remote workforce effectively can be difficult. Where being able to instantly talk to a colleague next to you, or gather into an impromptu team discussion, isn't possible because of dispersed team members, efficient hybrid working communications become key.

To ensure all team members are on the same page and working effectively despite geographical distance, trading firms need solutions that are centralised and always-on, scalable to support growing team numbers, and agile enough to ensure instant communication and collaboration regardless of user location. With this technology, paired with proper training and process refinement, managing a remote workforce becomes more seamless.
Ensuring a consistent employee experience in and out of the office
With the onset of hybrid work, trading teams needed to adjust to new ways of working outside of the office to ensure business continuity. This did, however, present traders with different kinds of process challenges to contend with, like no longer having access to dealerboards, hoot speakers and trader intercoms, which they previously relied on for speedy and confident information delivery.

As such, hybrid work has affected the employee experience for traders, and in order to support trader working preferences in a remote environment, firms need holistic hybrid solutions that offer blended interfaces and multiple communication channels. That said, there is a risk of having too many hybrid communications and collaboration tools for traders to manage, which can lead to increased frustration and a disparate, problematic tech stack. So, to ensure a consistent and sustainable employee experience both in the office and off-site, firms need to be selective and strategic about the hybrid working communications and collaboration tools they adopt.
Maintaining strong relationships
Apart from the rapid in-person collaboration that comes with the traditional, in-office voice trading environment, workflows and training also relied heavily on teams being present in-person. Being in a shared office space enabled the effective mentorship of juniors, as well as the ongoing maintenance of interpersonal client relationships through in-person meetings. This same degree of contact is difficult to achieve in a hybrid working environment, making maintaining strong relationships a real challenge.

Firms need to provide the means to enable traders to still have the same level of interpersonal interaction remotely. While in-office time may still be accounted for in a hybrid set-up, with the proper tools, teams should still be able to engage effectively with clients and each other without necessarily being side by side in the office.
Enabling essential collaboration
Effective trading in the Capital Markets has always been reliant on real-time collaboration across trading teams to ensure traders keep up with the rapid pace of decision-making needed to succeed in the industry. The shift to hybrid, however, made this degree of communication and visibility difficult to replicate in remote setups.

Trading professionals need to be able to talk to each other instantly and seamlessly, as and when required, regardless of where they're sitting. As such, enabling hybrid trading teams to maintain this essential collaboration needed to perform requires sophisticated hybrid working communications tools.
Implementing robust cyber security
As more trading activity occurs outside of the traditional office environment, cybersecurity threats are becoming more prevalent, and virtual systems are at a higher risk of vulnerability without the protection of on-site security measures. This has resulted in the need for more enhanced cybersecurity than what traditional trading firm infrastructure is accustomed to.

To mitigate cybersecurity risks, trading firms must implement robust cybersecurity measures that protect against external threats, such as malware and phishing attacks, as well as internal threats, such as insider trading and data breaches. Again, with proper training and reformed processes, along with more efficient cybersecurity measures, trading firms should be able to navigate cyber threats regardless of where their trading teams are located.
Guaranteeing the quick dissemination of information
Another advantage of working in-person is that team members can quickly share important information and be sure that it is received and actioned as necessary and on time. In hybrid work environments, disseminating key information, and ensuring it is timeously received and actioned, isn't as easily guaranteed, and delays in information sharing can have a knock-on effect on time-sensitive trading decisions.

This means that the hybrid working communications that trading firms adopt need to be efficient enough to enable team members to share information with each other quickly and act without delay. Instant voice solutions can help firms achieve comprehensive market awareness, leading to more informed trade decisions, and tools like hoots, intercoms and private wires can enable the dissemination of critical knowledge fast. Solutions like these are vital in an industry like voice trading, where markets can change literally overnight, and firms need to be able to respond quickly.
Staying compliant with the latest regulations
In a highly-regulated space like the Capital Markets, the shift to hybrid work has also been challenging from a compliance perspective, especially because of the intensified focus on communications compliance. The MiFID II and Dodd-Frank directives, as well as the FCA, demand greater transparency on trade-related communications, and firms are required to properly record all conversations, whether they take place via private wires, intercom calls or traditional phone calls.

Because traders working remotely are at a greater risk of non-compliance due to not meeting the required rules for capturing and managing communications data, firms need to implement tools that are sophisticated enough to support traders in meeting their compliance obligations. These tools must to be able to capture, monitor, analyse, archive and report on all communications, across channels, in one place.

This capturing, aggregating and normalising of communications data is not only necessary for compliance but also for updating and maintaining real-time financial modelling for better and more accurate delivery.
Keeping processes seamless and efficient
Because of the fast-paced nature of the Capital Markets, internal trading firm processes need to be as seamless and efficient as possible so that teams are able to communicate and collaborate effectively and at speed. Hybrid working models, however, have, to a degree, hindered traders' ability to make quick decisions, verify them with confidence, and execute on them quickly, largely because of in-office processes struggling to adapt to remote working practices.

As a result, process refinement has been a key focus for hybrid trading firms, and by leveraging the right tools, firms have been able to adapt their processes to meet the changing needs of hybrid workers. These solutions, paired with the proper hybrid working communications tools, have allowed processes to remain seamless and efficient, even with team members dispersed across locations.
How can firms ensure efficient communication in a hybrid workplace?
In a changed world where hybrid work has become most business' modus operandi, trading firms need to strategically enable their communications, including trader voice functions, to balance the demands of a hybrid workforce and various industry-specific challenges, like compliance and rapid in-person trading collaboration.

Efficient and clear processes and effortless communication, both in-person and online, are vital to ensuring that any change is implemented easily and with minimal disruption to trading activity, as well as ensuring industry-specific challenges are combatted effectively across a firm.

With modern hybrid working communication solutions, paired with proper process refinement and adequate internal training, firms can enable smooth, consistent and compliant trading communications, in and out of the office, that can support trading activities for years to come.
Why cloud solutions are vital for streamlining hybrid working communications
Cloud-based solutions have become key to trading firms maintaining speed and efficiency when working remotely in Capital Markets. By using the latest cloud tools, hybrid working trading firms can:

Achieve seamless and reliable communication.

Maintain real-time collaboration and communication, regardless of location.

Reduce delays in decision-making.

Ensure their infrastructure is secure and robust enough for the exchange of sensitive and confidential data across geographies.

Leverage encryption and other security features to protect their data, both at rest and in transit.

Reduce costs associated with on-site hardware, maintenance and specialised expert support.

Support business growth with scalable and flexible capabilities.

Maintain their relevance and competitive edge in an increasingly competitive industry.

Easily standardise and apply regulatory protocols and processes to confidently achieve compliance.
To ensure future success and to stay ahead of the competition, firms need to find the right cloud-based hybrid working communications tools supported by experienced implementation and optimisation partners. The best trader voice cloud infrastructure provides the communications solutions necessary to align teams, enable collaboration, streamline processes and ensure compliance, while still being flexible enough to adapt to change as needed.
How to transform hybrid working communications with Speakerbus
With over thirty-five years of experience connecting businesses in the Capital Markets space, Speakerbus is an industry leader in creating and providing tailored unified cloud communications solutions. We enable trading firms to leverage cloud software and communications tools to the fullest, and our hands-on approach allows us to work closely with your teams to deliver targeted solutions that bring your team together with full visibility, security and compliance.

QORUS, our critical communications software solution powered by a scalable, distributed architecture that can reside in the cloud and in hybrid or on-premise enviroments, enables real-time trading communication and collaboration specifically for hybrid working traders. CADENCE, our fully cloud-based communication platform, lets hybrid teams leverage the capabilities of the cloud for their hybrid working communication needs easily, while SONANCE streamlines and simplifies compliance for hybrid teams with its suite of communications compliance and intelligence vendor-compatible solutions.
Summary
Critical communications are key to optimal performance for trading firms, and because working models have evolved to accommodate remote and hybrid working practices, the ways in which trading teams communicate also need to adapt for maximum efficiency. This means tapping into modern hybrid working communications solutions, specifically those powered by the cloud.

To ensure their critical communications remain uninterrupted in a hybrid working world and to start experiencing the business-enhancing benefits the cloud has to offer, trading firms need to not only adapt, but also ensure they partner with the right solutions providers for their needs.

These partnerships will prove to be integral as trading firms move into an increasingly changeable future, so the importance of starting relationships with the right strategic partners from the start cannot be overstated.

Discover why Speakerbus is the partner of choice for hybrid working communications solutions, or talk to our team of experts to see how we can help you address your specific communication needs.